2017
Meetings by month
January
06/01/2017
Christine's paper
Extension of Pd-Mediated One-Pot Ketone Synthesis to Macrocyclization: Application to a New Convergent Synthesis of Eribulin
Jung Hwa Lee, Zhanjie Li†, Ayumi Osawa, and Yoshito Kishi*
Graphical abstract
Recently reported Pd-mediated one-pot ketone synthesis from an unactivated alkyl bromide and a thioester has been extended to a macrocyclic ketone synthesis. In situ generation of alkylzinc halide via single electron transfer (SET), using NbCpCl4 and CrCl3, was the key for the success of macrocyclization. A new convergent synthesis of eribulin has been achieved, using (1) catalytic asymmetric Ni/Cr-mediated coupling to form the C19–C20 bond, (2) base-induced cyclization to form the methylenetetrahydrofuran ring, and (3) Pd-mediated one-pot ketone synthesis to form the macrocyclic ketone.
Ololade's paper
Visible-Light-Induced Acetalization of Aldehydes with Alcohols
Hong Yi†§, Linbin Niu†§, Shengchun Wang†, Tianyi Liu†, Atul K. Singh†, and Aiwen Lei*†‡
Graphical abstract
In this work, we have achieved a simple and general method for acetalization of aldehydes by means of a photochemical reaction under low-energy visible light irradiation. A broad range of aromatic, heteroaromatic, and aliphatic aldehydes have been protected under neutral conditions in good to excellent yields using a catalytic amount of Eosin Y as the photocatalyst. Our visible light mediated acetalization strategies are successful for more challenging acid-sensitive aldehydes and sterically hindered aldehydes. Notably, this protocol is chemoselective to aldehydes, while ketones remain intact.
13/01/2017
Christian's paper
Yongho Park
,
Kaid C. Harper
,
Nadine Kuhl
,
Eugene E. Kwan
,
Richard Y. Liu
,
Eric N. Jacobsen
Carbohydrates are involved in nearly all aspects of biochemistry, but their complex chemical structures present long-standing practical challenges to their synthesis. In particular, stereochemical outcomes in glycosylation reactions are highly dependent on the steric and electronic properties of coupling partners; thus, carbohydrate synthesis is not easily predictable. Here we report the discovery of a macrocyclic bis-thiourea derivative that catalyzes stereospecific invertive substitution pathways of glycosyl chlorides. The utility of the catalyst is demonstrated in the synthesis of
trans
-1,2-,
cis
-1,2-, and 2-deoxy-β-glycosides. Mechanistic studies are consistent with a cooperative mechanism in which an electrophile and a nucleophile are simultaneously activated to effect a stereospecific substitution reaction.
Wouter's paper
Chemoenzymatic Approach for the Preparation of Asymmetric Bi-, Tri-, and Tetra-Antennary N-Glycans from a Common Precursor
Ivan A. Gagarinov†, Tiehai Li, Javier Sastre Toraño†, Tomislav Caval, Apoorva D. Srivastava, John A. W. Kruijtzer, Albert J. R. Heck, and Geert-Jan Boons
Progress in glycoscience is hampered by a lack of well-defined complex oligosaccharide standards that are needed to fabricate the next generation of microarrays, to develop analytical protocols to determine exact structures of isolated glycans, and to elucidate pathways of glycan biosynthesis. We describe here a chemoenzymatic methodology that makes it possible, for the first time, to prepare any bi-, tri-, and tetra-antennary asymmetric N-glycan from a single precursor. It is based on the chemical synthesis of a tetra-antennary glycan that has N-acetylglucosamine (GlcNAc), N-acetyllactosamine (LacNAc), and unnatural Galα(1,4)-GlcNAc and Manβ(1,4)-GlcNAc appendages. Mammalian glycosyltransferases recognize only the terminal LacNAc moiety as a substrate, and thus this structure can be uniquely extended. Next, the β-GlcNAc terminating antenna can be converted into LacNAc by galactosylation and can then be enzymatically modified into a complex structure. The unnatural α-Gal and β-Man terminating antennae can sequentially be decaged by an appropriate glycosidase to liberate a terminal β-GlcNAc moiety, which can be converted into LacNAc and then elaborated by a panel of glycosyltransferases. Asymmetric bi- and triantennary glycans could be obtained by removal of a terminal β-GlcNAc moiety by treatment with β-N-acetylglucosaminidase and selective extension of the other arms. The power of the methodology is demonstrated by the preparation of an asymmetric tetra-antennary N-glycan found in human breast carcinoma tissue, which represents the most complex N-glycan ever synthesized. Multistage mass spectrometry of the two isomeric triantennary glycans uncovered unique fragment ions that will facilitate identification of exact structures of glycans in biological samples.
Richard's paper
Rapid Asymmetric Synthesis of Disubstituted Allenes by Coupling of Flow-Generated Diazo Compounds and Propargylated Amines

Jian-Siang Poh, Szabolcs Makai, Timo von Keutz, Dr. Duc N. Tran, Dr. Claudio Battilocchio, Dr. Patrick Pasau, Prof. Steven V. Ley
Graphical abstract
We report herein the asymmetric coupling of flow-generated unstabilized diazo compounds and propargylated amine derivatives, using a new pyridinebis(imidazoline) ligand, a copper catalyst and base. The reaction proceeds rapidly, generating chiral allenes in 10–20 minutes with high enantioselectivity (89–98 % de/ee), moderate yields and a wide functional group tolerance.
Richards paper
Room-Temperature Coupling/Decarboxylation Reaction of α-Oxocarboxylates with α-Bromoketones: Solvent-Controlled Regioselectivity for 1,2- and 1,3-Diketones
Zhen He†, Xiaotian Qi‡, Zhijie She†, Yinsong Zhao†, Shiqing Li†, Junbin Tang†, Ge Gao*† , Yu Lan*‡, and Jingsong You
Graphical abstract
A transition-metal-free and room-temperature coupling/decarboxylation reaction between α-oxocarboxylates and α-bromoketones is reported herein. It represents the first mild and regioselective synthesis of either 1,2- or 1,3-diketones from the same starting materials. Notably, the regioselectivity is simply controlled by solvents. The preliminary experimental data and DFT calculations suggest sequential Darzens-type coupling, alkaline hydrolysis, KOH-promoted oxirane opening and decarboxylation in one pot. This method is efficient for the synthesis of α,β-epoxy-γ-butyrolactone and curcuminoids.
Lola's paper
Asymmetric Catalysis of the Carbonyl-Amine Condensation: Kinetic Resolution of Primary Amines
Sayantani Das, Nilanjana Majumdar, Chandra Kanta De, Dipti Sankar Kundu, Arno Döhring, Anika Garczynski, and Benjamin List
Graphical abstract
A Brønsted acid catalyzed kinetic resolution of primary amines is described that is based on the condensation between an amine and a carbonyl compound. 1,3-Diketones react with racemic α-branched amines to furnish the corresponding enantioenriched enaminone and recovered starting material. Good to excellent enantioselectivity was observed with both aromatic and aliphatic primary amines. This process represents the first small-molecule catalyzed kinetic resolution of aliphatic amines.
Christine's paper
Frustrated Lewis Acid/Brønsted Base Catalysts for Direct Enantioselective α-Amination of Carbonyl Compounds
Ming Shang, Xiaoxu Wang, Seung Moh Koo, Jennifer Youn, Jessica Z. Chan, Wenzhi Yao, Brian T. Hastings, and Masayuki Wasa
Graphical abstract
A method for enantioselective direct α-amination reaction catalyzed by a sterically "frustrated" Lewis acid/Brønsted base complex is disclosed. Cooperative functioning of the Lewis acid and Brønsted base components gives rise to in situ enolate generation from monocarbonyl compounds. Subsequent reaction with hydrogen-bond activated dialkyl azodicarboxylates delivers α-aminocarbonyl compounds in high enantiomeric purity.
27/01/2017
Christian's paper
Cobalt-Catalyzed Enantio- and Diastereoselective Intramolecular Hydroacylation of Trisubstituted Alkenes
Dr. Junfeng Yang, Dr. Alice Rérat, Yang Jie Lim, Dr. Corinne Gosmini, Prof. Naohiko Yoshikai
Graphical abstract
Enantio- and diastereoselective synthesis of trans-2,3-disubstituted indanones is achieved by intramolecular hydroacylation of 2-alkenylbenzaldehydes bearing trisubstituted alkenyl groups under cobalt-chiral diphosphine catalysis. Notably, a high level of enantioselectivity is induced regardless of the stereochemistry (E/Z ratio) of the alkenyl group of the starting material. Deuterium-labeling experiments shed light on the productive reaction pathways of the E- and Z-isomers.
Youssef's paper
Oxidative Entry into the Illicium Sesquiterpenes: Enantiospecific Synthesis of (+)-Pseudoanisatin
Kevin Hung§, Matthew L. Condakes§, Takahiro Morikawa, and Thomas J. Maimone
Graphical abstract
Illicium sesquiterpenes have been the subject of numerous synthetic efforts due to their ornate and highly oxidized structures as well as significant biological activities. Herein we report the first chemical synthesis of (+)-pseudoanisatin from the abundant feedstock chemical cedrol (∼$50 USD/kg) in 12 steps using extensive site-selective C(sp3)–H bond functionalization. Significantly, this work represents a novel oxidative strategic template for future approaches to these natural products and their analogs.
February
03/02/2017
Youssef's paper
Catalytic Asymmetric Bromocyclization of Polyenes
Ramesh C. Samanta* and Hisashi Yamamoto*
Graphical abstract
The first catalytic asymmetric bromonium ion-induced polyene cyclization has been achieved by using a chiral BINOL-derived thiophosphoramide catalyst and 1,3-dibromo-5,5-dimethylhydantoin as an electrophilic bromine source. Bromocyclization products are obtained in high yields, with good enantiomeric ratios and high diastereoselectivity, and are abundantly found as scaffolds in natural products.
Adrian's paper
Cobalt-catalysed C–H carbonylative cyclisation of aliphatic amides
Patrick Williamson, Alicia Galvána and Matthew J. Gaunt
Graphical abstract
A cobalt-catalysed C–H carbonylation of aliphatic carboxamide derivatives is described, employing commercially available Co(II)-salts in the presence of a silver oxidant. This operationally simple process utilises an atmospheric pressure of CO and generates a range of substituted succinimide products bearing diverse functional groups that can be successfully accessed via this methodology.
Pol's paper
Water-Enabled Catalytic Asymmetric Michael Reactions of Unreactive Nitroalkenes: One-Pot Synthesis of Chiral GABA-Analogs with All-Carbon Quaternary Stereogenic Centers
Jae Hun Sim, Prof. Choong Eui Song
Graphical abstract
Water enables new catalytic reactions for otherwise unreactive substrate systems. Under the "on water" reaction conditions, extremely unreactive β,β-disubstituted nitroalkenes smoothly underwent enantioselective Michael addition reactions with dithiomalonates using a chiral squaramide catalyst, affording both enantiomers of highly enantioenriched Michael adducts with all-carbon-substituted quaternary centers. The developed "on water" protocol was successfully applied for the scalable one-pot syntheses of chiral GABA analogs with all-carbon quaternary stereogenic centers at the β-position, which might show highly interesting pharmaceutical properties.
Christian's paper
Unique physicochemical and catalytic properties dictated by the B3NO2 ring system
Hidetoshi Noda, Makoto Furutachi, Yasuko Asada, Masakatsu Shibasaki & Naoya Kumagai
Graphical abstract
The expansion of molecular diversity beyond what nature can produce is a fundamental objective in chemical sciences. Despite the rich chemistry of boron-containing heterocycles, the 1,3-dioxa-5-aza-2,4,6-triborinane (DATB) ring system, which is characterized by a six-membered B3NO2 core, remains elusive. Here, we report the synthesis of m-terphenyl-templated DATB derivatives, displaying high stability and peculiar Lewis acidity arising from the three suitably arranged boron atoms. We identify a particular utility for DATB in the dehydrative amidation of carboxylic acids and amines, a reaction of high academic and industrial importance. The three boron sites are proposed to engage in substrate assembly, lowering the entropic cost of the transition state, in contrast with the operative mechanism of previously reported catalysts and amide coupling reagents. The distinct mechanistic pathway dictated by the DATB core will advance not only such amidations, but also other reactions driven by multisite activation.
10/02/2017
Wouter's paper
Chemical Stabilization of Unnatural Nucleotide Triphosphates for the in Vivo Expansion of the Genetic Alphabet
Aaron W. Feldman, Vivian T. Dien, and Floyd E. Romesberg
Graphical abstsract
We have developed an unnatural base pair (UBP) and a semisynthetic organism (SSO) that imports the constituent unnatural nucleoside triphosphates and uses them to replicate DNA containing the UBP. However, propagation of the UBP is at least in part limited by the stability of the unnatural triphosphates, which are degraded by cellular and secreted phosphatases. To circumvent this problem, we now report the synthesis and evaluation of unnatural triphosphates with their β,γ-bridging oxygen replaced with a difluoromethylene moiety, yielding dNaMTPCF2and dTPT3TPCF2. We find that although dNaMTPCF2 cannot support in vivo replication, likely due to poor polymerase recognition, dTPT3TPCF2 can, and moreover, its increased stability can contribute to increased UBP retention. The data demonstrate the promise of this chemical approach to SSO optimization, and suggest that other modifications should be sought that confer phosphatase resistance without interfering with polymerase recognition.
Richard's paper
Pd-Catalyzed Conversion of Aryl Iodides to Sulfonyl Fluorides Using SO2 Surrogate DABSO and Selectfluor
Ariana L. Tribby†, Ismeraí Rodríguez†, Shamira Shariffudin‡, and Nicholas D. Ball
Graphical abstsract
A one-pot Pd-catalyzed conversion of aryl iodide to aryl sulfonyl fluorides using DABSO and selectfluor has been developed generating aryl sulfonyl fluorides in good to excellent yields. The reaction results in the generation of electronically and sterically diverse sulfonyl fluorides. Additionally, sulfonyl fluorides can be converted to aryl sulfonamides and sulfonic esters using Cs2CO3 under mild conditions.
Christian's paper
The development and mechanistic investigation of a palladium-catalyzed 1,3-arylfluorination of chromenes
Richard T. Thornbury,a Vaneet Saini,b Talita de A. Fernandes,ac Celine B. Santiago,d Eric P. A. Talbot,ab Matthew S. Sigman,d Jeffrey M. McKennab and F. Dean Toste
Graphical abstsract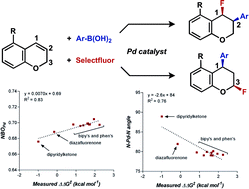 A mild palladium-catalyzed ligand-controlled regioselective 1,3-arylfluorination of 2[H]-chromenes has been developed. The products with a syn-1,3 substitution pattern were obtained with high enantiomeric excess using a PyrOx ligand, wherein the utility of these pyranyl-fluorides was further demonstrated through their participation in a diastereoselective C–C bond forming reaction. Ligand dependent divergent formation of both the 1,3- and 1,2- alkene difunctionalization products was observed. The nature of this bifurcation was investigated through experimental studies in combination with computational and statistical analysis tools. Ultimately, the site selectivity was found to rely on ligand denticity and metal electrophilicity, the electronics of the boronic acid, and the donor ability of the directing group in the substrate.
17/02/2017
Richard's paper
Visible Light Copper Photoredox-Catalyzed Aerobic Oxidative Coupling of Phenols and Terminal Alkynes: Regioselective Synthesis of Functionalized Ketones via C≡C Triple Bond Cleavage
Arunachalam Sagadevan, Vaibhav Pramod Charpe, Ayyakkannu Ragupathi, and Kuo Chu Hwang
Graphical abstract
Direct oxidative coupling of phenols and terminal alkynes was achieved at room temperature by a visible-light-mediated copper-catalyzed photoredox process. This method allows regioselective synthesis of hydroxyl-functionalized aryl and alkyl ketones from simple phenols and phenylacetylene via C≡C triple bond cleavage. 47 examples were presented. From a synthetic perspective, this protocol offers an efficient synthetic route for the preparation of pharmaceutical drugs, such as pitofenone and fenofibrate.
Lukas's paper
Chemoselective Acylation of Primary Amines and Amides with Potassium Acyltrifluoroborates under Acidic Conditions
Alberto Osuna Gálvez, Cédric P. Schaack, Hidetoshi Noda, and Jeffrey W. Bode*
Graphical abstract
Current methods for constructing amide bonds join amines and carboxylic acids by dehydrative couplings—processes that usually require organic solvents, expensive and often dangerous coupling reagents, and masking other functional groups. Here we describe an amide formation using primary amines and potassium acyltrifluoroborates promoted by simple chlorinating agents that proceeds rapidly in water. The reaction is fast at acidic pH and tolerates alcohols, carboxylic acids, and even secondary amines in the substrates. It is applicable to the functionalization of primary amides, sulfonamides, and other N-functional groups that typically resist classical acylations and can be applied to late-stage functionalizations.
Christian's paper
Light-Driven Enantioselective Organocatalytic β-Benzylation of Enals

Dr. Luca Dell'Amico, Dr. Victor M. Fernández-Alvarez, Prof. Dr. Feliu Maseras, Prof. Dr. Paolo Melchiorre
Graphical abstract
A photochemical organocatalytic strategy for the direct enantioselective β-benzylation of α,β-unsaturated aldehydes is reported. The chemistry capitalizes upon the light-triggered enolization of 2-alkyl-benzophenones to afford hydroxy-o-quinodinomethanes. These fleeting intermediates are stereoselectively intercepted by chiral iminium ions, transiently formed upon condensation of a secondary amine catalyst with enals. Density functional theory (DFT) studies provided an explanation for why the reaction proceeds through an unconventional Michael-type addition manifold, instead of a classical cycloaddition mechanism and subsequent ring-opening.
24/02/2017
Wouter's paper
Azido and Tetrazolo 1,2,4,5-Tetrazine N-Oxides

Dr. David E. Chavez, Dr. Damon A. Parrish, Dr. Lauren Mitchell, Dr. Greg H. Imler
Graphical abstract
This study presents the synthesis and characterization of the oxidation products of 3,6-diazido-1,2,4,5-tetrazine (1) and 6-amino-[1,5-b]tetrazolo-1,2,4,5-tetrazine (2). 3,6-Diazido-1,2,4,5-tetrazine-1,4-dioxide was produced from oxidation with peroxytrifluoroacetic acid, and more effectively using hypofluorous acid, and 2 can be oxidized to two different products, 6-amino-[1,5-b]tetrazolo-1,2,4,5-tetrazine mono-N-oxide and di-N-oxide. These N-oxide compounds display promising performance properties as energetic materials.
Lukas's paper
Catalytic Asymmetric Intramolecular [4+2] Cycloaddition of In Situ Generated ortho-Quinone Methides

Dr. Youwei Xie, Prof. Dr. Benjamin List
Graphical abstract
Herein, we describe the first catalytic asymmetric intramolecular [4+2] cycloaddition of in situ generated ortho-quinone methides. In the presence of a confined chiral imidodiphosphoric acid catalyst, various salicylaldehydes react with dienyl alcohols to give transient ortho-quinone methide intermediates, which undergo an intramolecular [4+2] cycloaddition to provide highly functionalized furanochromanes and pyranochromanes in excellent diastereoselectivity and enantioselectivity.
Pol's paper
Highly Regio- and Enantioselective Vicinal Dihalogenation of Allyl Amides
Bardia Soltanzadeh†, Arvind Jaganathan‡, Yi Yi†, Hajoon Yi†, Richard J. Staples†, and Babak Borhan
Graphical abstract
We report a highly regio-, diastereo- and enantioselective vicinal dihalogenation of allyl amides. E- and Z-alkenes with both aryl and alkyl substituents were compatible with this chemistry. This is the result of exquisite catalyst controlled regioselectivity enabling use of electronically unbiased substrates. The reaction employs commercially available catalysts and halenium sources along with cheap inorganic halide salts to affect this transformation. A preliminary effort to extend this chemistry to heterodihalogenation is also presented.
March
03/03/2017
Adrian's paper
Construction of a visible light-driven hydrocarboxylation cycle of alkenes by the combined use of Rh(I) and photoredox catalysts
Kei Murata,a Nobutsugu Numasawa,a Katsuya Shimomaki,a Jun Takayaa and Nobuharu Iwasawa*a
Graphical abstract
A visible light driven catalytic cycle for hydrocarboxylation of alkenes with CO2 was established using a combination of a Rh(I) complex as a carboxylation catalyst and [Ru(bpy)3]2+ (bpy = 2,2′- bipyridyl) as a photoredox catalyst. Two key steps, the generation of Rh(I) hydride species and nucleophilic addition of π-benzyl Rh(I) species to CO2, were found to be mediated by light.
Christian's paper
Radical-polar crossover reactions of vinylboron ate complexes
Marvin Kischkewitz1, Kazuhiro Okamoto2, Christian Mück-Lichtenfeld1, Armido Studer
Graphical abstract
Vinyl boronic esters are valuable substrates for Suzuki-Miyaura cross-coupling reactions. However, boron-substituted alkenes have drawn little attention as radical acceptors, and the radical chemistry of vinylboron ate complexes is underexplored. We show here that carbon radicals add efficiently to vinylboron ate complexes and that their adduct radical anions undergo radical-polar crossover: A 1,2-alkyl/aryl shift from boron to the α-carbon sp2 center provides secondary or tertiary alkyl boronic esters. In contrast to the Suzuki-Miyaura coupling, a transition metal is not required, and two carbon-carbon bonds are formed. The valuable boronic ester moiety remains in the product and can be used in follow-up chemistry, enlarging the chemical space of the method. The cascade uses commercial starting materials and provides access to perfluoroalkylated alcohols, γ-lactones, γ-hydroxy alkylnitriles, and compounds bearing quaternary carbon centers.
10/03/2017
Lola's paper
Tf2NH-Catalyzed Formal [3 + 2] Cycloaddition of Ynamides with Dioxazoles: A Metal-Free Approach to Polysubstituted 4-Aminooxazoles
Yingying Zhao†‡§, Yancheng Hu†§, Chunxiang Wang†, Xincheng Li*†, and Boshun Wan
Graphical abstract
An unprecedented Tf2NH-catalyzed formal [3 + 2] cycloaddition of ynamides with dioxazoles was developed to construct various polysubstituted 4-aminooxazoles. This approach features a metal-free catalytic bimolecular assembly of oxazole motifs, a low-cost catalyst, exceptionally mild reaction conditions, a very short reaction time, a broad substrate scope, and high efficiency. This metal-free protocol may find applications in pharmaceutical-oriented synthesis.
17/03/2017
Wouter's paper
Application of Methyl Bisphosphine-Ligated Palladium Complexes for Low Pressure N-11C-Acetylation of Peptides

Thomas L. Andersen, Dr. Patrik Nordeman, Heidi F. Christoffersen, Dr. Hélène Audrain, Prof. Dr. Gunnar Antoni, Prof. Dr. Troels Skrydstrup
Graphical abstract
A mild and effective method is described for 11C-labeling of peptides selectively at the N-terminal nitrogen or at internal lysine positions. The presented method relies on the use of specific biphosphine palladium–methyl complexes and their high reactivity towards amino-carbonylation of amine groups in the presence [11C]carbon monoxide. The protocol facilitates the production of native N-11C-acetylated peptides, without any structural modifications and has been applied to a selection of bioactive peptides.
Hossay's paper
Catalytic Asymmetric Diamination of Styrenes
Kilian Muñiz*†‡ , Laura Barreiro†§, R. Martín Romero†§, and Claudio Martínez
Graphical abstract
An enantioselective catalytic vicinal diamination of styrenes is reported, which proceeds under entirely intermolecular reaction control. It relies on a chirally modified aryliodine(I) catalyst and proceeds within an iodine(I/III) manifold with conventional 3-chloroperbenzoic acid as a terminal oxidant. An environmentally benign solvent combination not only adds to the attractiveness of the process but also slows down the rate of the undesired background reaction. A total of 30 examples are presented, which consistently provide high enantiomeric excesses in the range 91–98%.
Pol's paper
Metal-Free Intermolecular Aminoarylation of Alkynes

Pauline T. G. Rabet, Scott Boyd, Prof. Michael F. Greaney
Graphical abstract
A metal-free aminoarylation of internal alkynes is described, yielding tetrasubstituted enaminoates. The transformation proceeds in good to excellent yields through a tandem conjugate addition/Smiles rearrangement involving aryl and heteroaryl sulfonamides. Substrate scope is very broad under simple, user-friendly conditions, and the reaction can be used to easily access biologically active phenethylamine derivatives.